Sherman Library Board discusses summer programs, survey results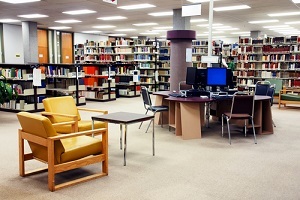 Contributed photo
At a recent meeting, the Sherman Public Library Board of Trustees discussed upcoming summer programs and the results of a nonresident survey.
The Sherman Public Library Board of Trustees meets every third Wednesday of the month at 5 p.m. in the library, located at 2100 Andrew Road. The library's hours are 8 a.m. to 8 p.m. Monday-Thursday, 8 a.m. to 5 p.m. Friday and 9 a.m. to 2 p.m. Saturday.
Below is the agenda for this meeting, as provided by the board.
Sherman Public Library
Agenda
Regular Meeting Sherman Library Board of Trustees
May 18, 2016
Sherman Public Library Meeting Room
5 PM
Call to order Regular Meeting Sherman Public Library Board of Trustees
Roll Call Members Present /Absent
Julie Horton ___ (P) Mary Contri ____ (Trustee)
David Grimm ____ (VP) Gale Kilbury ____(Trustee)
Elizabeth Heubner ___ (Sec) Melissa Allen ____(Trustee)
Bob Shurig ____ (Tr)
Visitors and Guests :
Introductions : Members of the public wishing to address the Board and other guests.
Items for consideration not listed on Agenda
Secretary's Report : Approval of Minutes from April 20, 2016 board meeting. Also Special meeting May 2,
2016
Financial report: Approval of Transactions and various reports.
Payment of bills as presented and discussed
Other financial items for consideration :
Mortgage payment to WSBT
Librarian's Report
Circulation April 2016
SHARE 1382 patrons borrowed 1780 items
Reciprocal borrowing 37 borrowers 222 items
3M Cloud 46 e-books
LOTG 142
YTD Borrowing/Lending
SHARE Borrowed 5671
Loaned 2589
WorldShare Borrowed 20
Loaned 12
Library Events and Issues
Toddler Story Time has concluded for time being
SUMC Summer Visits begin June 3
Groups meeting at library
Summer Programs begin June 9
Audit scheduled for July 25
Library will be closed May 30, 2016 observing Memorial Day
NEW Business
Non-Resident Survey from IHLS
Board organizational meeting for coming year
Election of Officiers
Meeting Ordinance
Banking Policy update
Online Banking
Direct Deposit
Meeting with Lazarware representatives
Add Accountant to IMRF Web Assistant
Continuing Business
Personnel
Personnel Policy
Using Edge Assessment for planning
Peek-a-Book Grant
Report on property tax exemption
Adjournment
Want to get notified whenever we write about
Sherman Public Library
?
Next time we write about Sherman Public Library, we'll email you a link to the story. You may edit your settings or unsubscribe at any time.
Sign-up for Alerts
Organizations in this Story
More News