Special legislative session costs Illinoisans at least $40,000 a day
The current 10-day special session of the General Assembly stands to cost Illinoisans up to $500,000, according to an analysis by the Better Government Association (BGA).
Gov. Bruce Rauner called the special session in an effort to end the budget impasse, and while it stands to benefit taxpayers if lawmakers can come to an agreement, its necessity will also add to the costs of a state already deep in debt, according to BGA policy analyst Jose Sanchez. Lawmakers receive a per diem of $111 while in session, as well as 39 cents per mile traveled between Springfield and their home districts.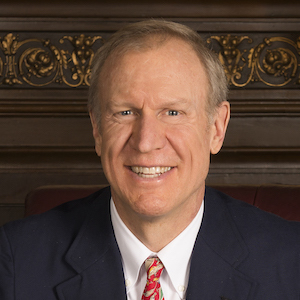 These costs amount to an estimated $40,000 to $50,000 per day, or a total somewhere between $400,000 and $500,000 if the session runs its full course.
Illinois has been warned of further credit downgrades if it does not have a budget in place for the 2018 fiscal year, which would mean that any more borrowing would be more expensive. Some lenders might decide not to lend to the state at all, Sanchez says.
Two of the three most prominent ratings agencies already have Illinois pegged one step above junk status, while the third puts it two steps above.
With the state's current levels of debt, the average taxpayer burden is $50,400, according to the Chicago-based financial watchdog group Truth in Accounting. It is an estimate of the amount every taxpayer would need to pay for the state to pay off its current debts.
Illinois' budget and debt problems stem partially from high spending levels that it cannot cover. In 2014, state lawmakers authorized spending on state workers, retired public employees and children, among other social service funding. At the time, the state's revenue was artificially increased from a tax income hike that expired that year. Spending has continued at the same level, however, thanks to court rulings that the state must maintain payments necessitated by the continuing appropriations previously authorized.
This deficit has led to a backlog of unpaid bills that totals more than $15 billion, though that debt is small compared with Illinois' massive pension debt. Sanchez, citing Moody's Investor Service and economic experts, places that debt at approximately $251 billion -- the worst in the country. The debt has grown from repeated shorting of the state's pension payments and previous administrations borrowing money from state pension funds.
Democrats and Republicans have not been able to enact a full budget for two years -- a trend that continued at the end of May when the spring legislative session ended. Any budget agreement that comes out of the special session will require three-fifths majority approval rather than the simple majority that would have sufficed in the regular session.
Want to get notified whenever we write about
Better Government Association
?
Next time we write about Better Government Association, we'll email you a link to the story. You may edit your settings or unsubscribe at any time.
Sign-up for Alerts
Organizations in this Story
223 West Jackson Boulevard
Chicago, IL - 60606
More News