Senate takes small steps toward 'grand bargain'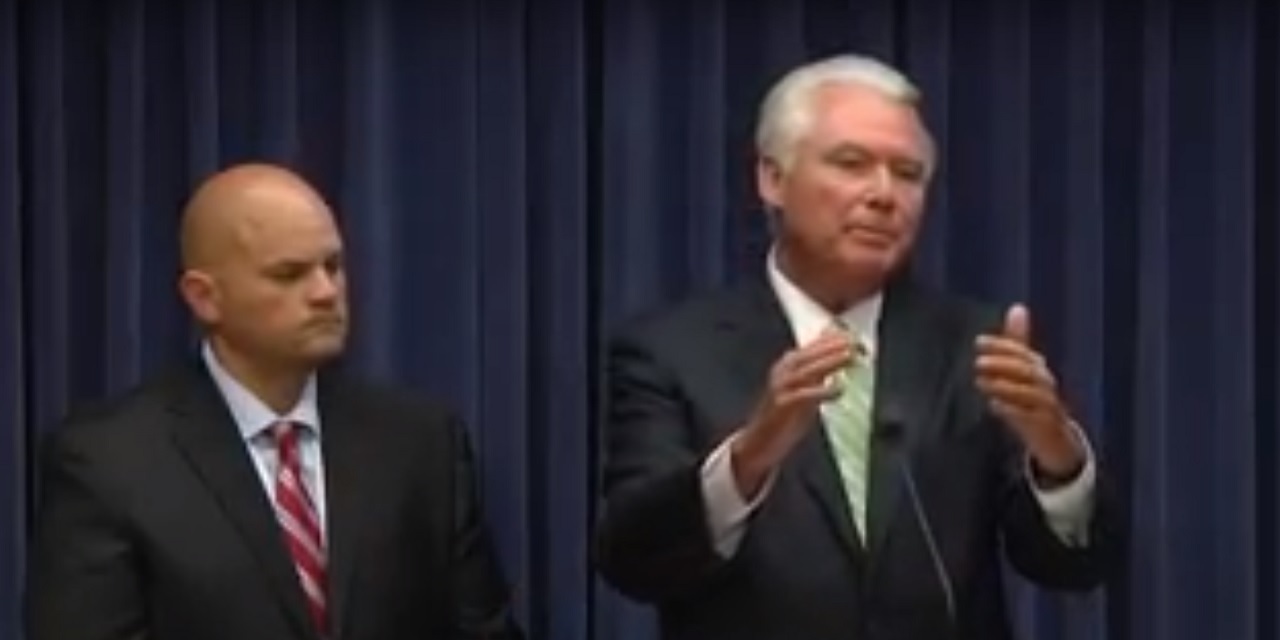 Illinois Manufacturers Association President and CEO Greg Baise gestures while association vice president and COO Mark Denzler Presser looks on during a recent press conference at the state capitol in Springfield.
The Illinois Senate started taking votes on Tuesday on smaller elements of its so-called "grand bargain" in hopes of finally putting an end to the state's 20-month odyssey of operating without a budget.
Lawmakers easily passed several small-scale bills aimed at making state and local government run more efficiently. Now comes the hard part: namely, the task of the two sides coming together on a package of proposals that includes a compromised mix of tax hikes, property tax freezes and changes to pension and workers' compensation programs.
The 12-bill package is largely the work of Senate President John Cullerton (D-Chicago) and Minority Leader Christine Radogno (R-Lemont). Cullerton said lawmakers might be willing to accept parts of a larger plan they normally would not because they are inured to going without a budget for so long.
"This is the classic compromise," he said. "So, you get as much as you can, and you don't overestimate how much you think you're entitled to."
Even with that sort of mindset, things won't come easy. Already, a measure designed to cut government pension benefits was shot down in a razor-thin 26-27 vote, though it will almost certainly be called for another vote. Every component of the deal must pass or none of it can become law.
Cullerton and company are expected to soon turn their attention to other more critical aspects of the bill, and where things go from there seems to be anyone's guess.
"I freely admit I am feeling a little discombobulated over here because I am voting 'no' on a lot of things today that I would like to vote 'yes' for," said Sen. Tom Rooney (R-Rolling Meadows). "This little mechanism of having all these bills together has tied my hands."
In brokering the proposed deal, Cullerton and Radogno have found themselves under heavy criticism, particularly Radogno, who has been vilified as being no match for the slick and more polished ways of the more experienced tandem of Cullerton and House Speaker Mike Madigan.
Illinois Opportunity Project co-founder Pat Hughes has been among Radogno's harshest critics, recently saying, "Christine Radogno is not a leader; she's not a Republican. She wanted to sit at the big kids table with Cullerton and Madigan, see herself in the newspaper, under the guise of bipartisanship. And her caucus, the caucus that she ostensibly leads, is really a strained term when it comes to her. Those folks, there are some good folks in that caucus. And they didn't want to go along with what is basically a Democratic platform that went against what Gov. (Bruce) Rauner, I think, should be trying to accomplish with his turnaround agenda."
Meanwhile, Illinois State House Rep. Jeanne Ives (R-Wheaton) remains on record in pushing an alternative proposal put forth by the Chicago-based conservative think tank Illinois Policy Institute that would reduce spending, provide property tax relief and implement reforms.
"Our struggle is just getting people to understand what we're trying to do and actually report on it in a reasonable way," she said of the plan, Budget Solutions 2018. "That's our struggle."
The Illinois Manufacturers' Association (IMA) has also delayed its endorsement of the grand bargain until it sees more done in the area of workers' compensation reforms.
The Rauner administration is urging lawmakers to continue to work toward a better arrangement for taxpayers.
"We appreciate the hard work of the Senate in trying to pass a bipartisan agreement that can become law," Rauner Spokeswoman Catherine Kelly said. "Some progress has been made, but more work is needed to achieve a good deal for taxpayers. We encourage senators to keep working toward a good deal for taxpayers.​"
IMA CEO Greg Baise said those who don't see the need for such measures are missing the big picture.
"Critics say, 'Well, is this is a race to the bottom?' No. We've already won the race to the top is the problem," he said. "We're the seventh-highest workers' comp system cost in the country."
In the end, Baise insists that whatever is done in the form of a budget should directly address the state's problem of overspending.
"First and foremost, we have to start living within our means, and when we look at this package, whenever it comes out, will it truly balance the Illinois budget?" Baise said.
Illinois Policy Institute leaders recently blasted the whole notion of the grand bargain as nothing more than a "taxpayer bailout" of all of Springfield's failures.
Editor's note: Additional quotations were added to this story after its initial publication.
Want to get notified whenever we write about any of these organizations ?
Next time we write about any of these organizations, we'll email you a link to the story. You may edit your settings or unsubscribe at any time.
Sign-up for Alerts
Organizations in this Story
Illinois Manufacturers' Association • Springfield
More News