No mystery in botched budget pursuit, radio host says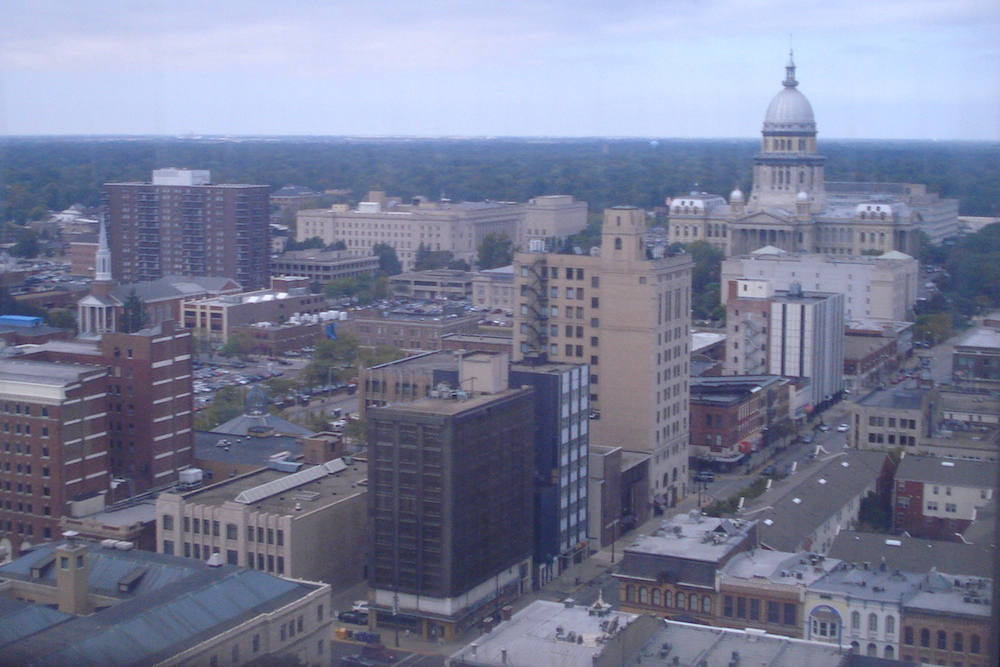 Springfield, Illinois | By Katherine Johnson, A dreary day in Springfield Illinois, CC BY 2.0, https://www.flickr.com/photos/59179708@N00/1469062503
If Illinoisans have been on the edge of their seats waiting for the state government to come to an agreement on a balanced budget, an activist suggested a reason during a Chicago-based radio talk show recently: The situation is like something from a suspense movie.
"Think of the term, the concept, of the budget," Pat Hughes, co-founder of the Illinois Opportunity Project, said on "Illinois Rising." "It's like a MacGuffin in an old Hitchcock movie. It's like the Maltese Falcon. It's the thing they're using for everybody to go and chase."
Springfield lawmakers are chasing the elusive balanced budget amid the odd and various tax proposals inside the "grand bargain" budget deal. Those tax proposals would have hit especially hard in the Downstate and Chicago's suburbs, Hughes said.
"It's not a bargain for the people," he said.
Hughes, a Hinsdale attorney and real estate developer, is co-founder of the Illinois Opportunity Project and president of the Liberty Justice Center. In 2010, he ran for the U.S. Senate seat vacated by Barack Obama, coming in second behind Sen. Mark Kirk in the Republican primary.
His co-host, Dan Proft, is a principal of Local Government Information Services, which owns this publication.
Hughes regularly appears on local and national talk shows, including Fox Chicago, In the Loop, the Sean Hannity Show, the Mark Levin Show, the Laura Ingram Show and Beyond the Beltway.
The seemingly doomed grand bargain was presented by Senate Pres. John Cullerton (D-Chicago) and Senate Minority Leader Christine Radogno (R-Lemont), who is working hard to reach that bargain but is actually playing into Democrats' hands, Hughes said.
"She's making it look like a bipartisan effort, even though her caucus is against it," he said. "And, of course, the governor, at least privately -- and I wish more publicly -- would be against it."
Cullerton, for his part, "gets a two-for," Hughes said.
"He gets to call it a bipartisan bill, and then he gets to blame Rauner for killing it," Hughes said.
The struggle has some big implications for the 2018 gubernatorial race, including some opportunities for Democratic candidate Chris Kennedy.
"And then Chris Kennedy can come in and say, 'Look, I was never for higher taxes; I want reforms, too,' and he can come from the outside," Hughes said. "So Radogno is just serving this up."
Kennedy, a Chicago businessman, son of the late Sen. Robert F. Kennedy and nephew of the late President John F. Kennedy, announced his candidacy in February. Other Democrats who've announced are billionaire businessman J.B. Pritzker, Madison County Regional Superintendent of Schools Bob Daiber, Sen. Daniel Biss (D-Evanston) and Chicago Alderman Ameya Pawar.
Much of Illinois' news media doesn't know what the state budget process is really all about, so the even-bigger implications aren't being reported, Hughes said.
"The reality is that this idea of getting a budget is pretext for political capitulation," he said. "That's what it is, how it's being used, and it's being adopted in the media as 'we have to have a budget, we have to have a budget, we have to have a budget', as if there's some magic to that."
Still, there are implications the public does understand, Hughes said.
"Here's the bottom line," Hughes said. "People understand that the state can't go down this track of papering over all the structural infirmities for one more year or one more election cycle. They want spending to be cut, they want the politicians heads on spikes -- both good ideas -- and they want government restructured, rethought. They want leadership from their executive, so they can kind of conjure up a reason to make Illinois a long-term play, a long-term growth play, which very few people can credibly make that case that it is at present."
Want to get notified whenever we write about
Illinois Opportunity Project
?
Next time we write about Illinois Opportunity Project, we'll email you a link to the story. You may edit your settings or unsubscribe at any time.
Sign-up for Alerts
Organizations in this Story
More News