IIlinois sinks to near-junk bond status in eyes of two agencies
One day after the General Assembly ended its spring legislative session, lllinois sank to new depths, as two of the three major U.S. credit rating agencies dropped the state to one step above "junk" bond status, the Illinois Policy Institute reported.
Moody's Investors Service and S&P Global Ratings also gave the state a negative outlook in response to the ongoing budget crisis -- a warning that another rating drop could be at hand. If that happens, Illinois would be the first state in history to sink to such depths.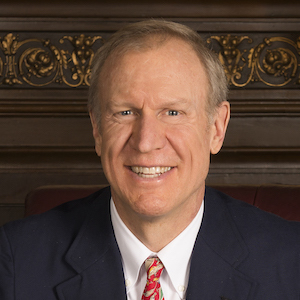 Illinois' spring legislative session ended on May 31, and for the third year in a row the General Assembly adjourned without a full-year budget in place. A special session will allow talks to continue through June; fiscal year 2018 begins on July 1. The General Assembly now has an even more difficult path, though, since a three-fifths' majority is required to pass legislation in the extended session.
In a press release, Moody's attributed its downgrade to Illinois' legislative gridlock and unpaid bills totaling approximately $15 billion, or 40 percent of the state's budget. Moody's also estimated the state's pension debt, a figure the state places at $130 billion, to be more than $250 billion, Moody's dropped Illinois from Baa2 to Baa3, which the institute says is one step above a non-investment level rating.
"Extending the impasse, and the state's embedded operating deficit of at least $5 billion (or 15% of general fund revenue) would signal further pressure on the state's credit position," Moody's said in its release. "But the state's credit could stabilize at the current level in the event of a political consensus that more closely aligns revenues and spending, without relying on unsustainable fiscal measures."
Illinois could reach junk status in Moody's evaluation based on increases in unfunded pension liabilities, growing structural imbalances, more court ordered payments, failure to put legislation in place to pay off debts and poor management of other adverse economic events. The agency noted that positive factors, such as putting a pension funding plan in place, reducing the state's payment backlog and encouraging structural balance, could lead to an upgrade.
S&P Global dropped Illinois from a BBB rating to a BBB- rating, also one step above a non-investment rating. In a press release, the agency cited Illinois' budget deficit, unpaid bills, exposure to interest, poor levels of pension funding and inability to put funding in place. S&P Global put Illinois on CreditWatch, which typically lasts for 90 days, though the agency expects Illinois' situation to be resolved by July 1, when the rating will drop again if no budget is in place.
"The rating actions largely reflect the severe deterioration of Illinois' fiscal condition, a byproduct of its stalemated budget negotiations, now approaching the start of a third fiscal year," Gabriel Petek, an analyst with S&P Global, said. "We placed the ratings on CreditWatch with negative implications because, in our view, the unrelenting political brinkmanship now poses a threat to the timely payment of the state's core priority payments."
The Illinois Policy Institute said Illinois has seen its credit rating been reduced 21 times since 2009 in response to structural spending problems. Vice President of Policy Ted Dabrowski and policy analyst John Klingner contend that Illinois lawmakers have failed to address high spending for decades, instead relying on borrowing and tax hikes to maintain unsustainable costs.
The institute urged lawmakers to put a budget in place that is built on reforms rather than tax hikes to prevent further downgrades.
Want to get notified whenever we write about
Illinois Policy Institute
?
Next time we write about Illinois Policy Institute, we'll email you a link to the story. You may edit your settings or unsubscribe at any time.
Sign-up for Alerts
Organizations in this Story
More News